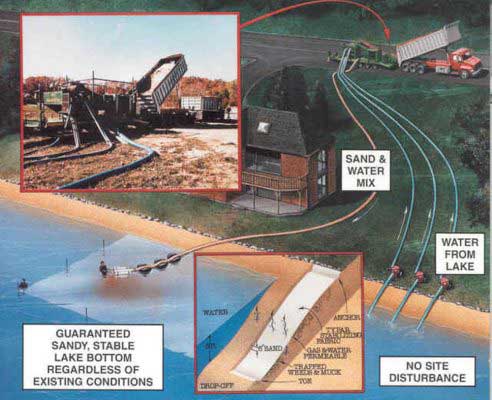 The Sand-Pro System is a one-of-a-kind proprietary machine specifically designed to create an instant beach by pumping sand via pipelines over TYPAR, a geo-textile fabric that is installed on an existing lake bottom. TTC, LLC absolutely guarantees your lake bottom to be a stable sand beach with no weeds at completion. This means that an area you could not walk through without sinking in the muck or swim because the weeds were so thick, will be a perfect swim area.
ABOUT US
TT&C (originally TT&G) became involved with inland lake restoration & improvements in 1985 & after extensive research & testing developed the SAND-PRO portable sand slurry plant.
Joseph C. Trierweiler, President of TT&G, Inc. was granted both an apparatus and method patent for beach restoration in 1989.
Unfortunately, in 2004, Joe Trierweiler passed. His three sons Curt, Craig and Chris who have been involved in the installation and process of the beaches are carrying on with the dream Joe worked so hard on for so long.