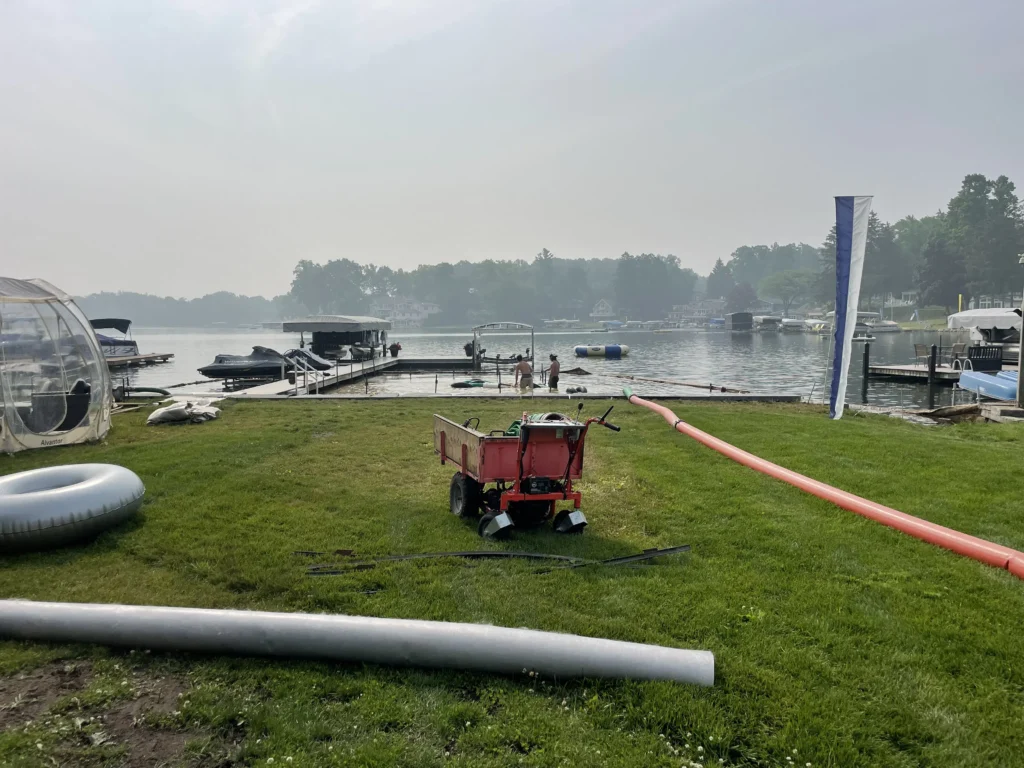 The magic of Michigan lake living comes to life when residents can enjoy a pristine, sandy beach at their doorstep. At TT&C Beaches, our recent job took us to Magician Lake, located in the enchanting city of Dowagiac, where we took on the task of transforming our client's lake bottom area and shoreline beach into a sandy paradise.
The client resided on the lake, with a vast lawn which led down to the lakefront where a dock and rock retaining wall were previously installed. The residents wished for a sandy lake bottom area and shoreline beach, of about 800 square feet, to sit behind the retaining wall to serve as an area to enjoy the views of the lake and partake in beach-goer activities such as swimming, fishing, and relaxation. Beach sanding is an essential part of waterfront upkeep, as it ensures that this area remains inviting and creates a comfortable space for everyone to enjoy their favorite pastimes and cherish the beauty of the lake.
Magician Lake, as the name suggests, is a true gem located in the charming city of Dowagiac, Michigan. Wrapped in layers of mystery and charm, the lake's name itself has a rich history with some theories of its origin. Some believe that it was originally known as Silver Lake due to its silver appearance created by the marlstone-covered lake bottom. It was said to be popular with magicians from the Chicago area many years ago, thereby evolving into "Magician Lake". Another intriguing theory cites the indigenous tribes' fascination with the lake's ability to maintain steady water levels, regardless of the weather or drought conditions. It was then known as "Magic Lake" which later turned into "Magician Lake".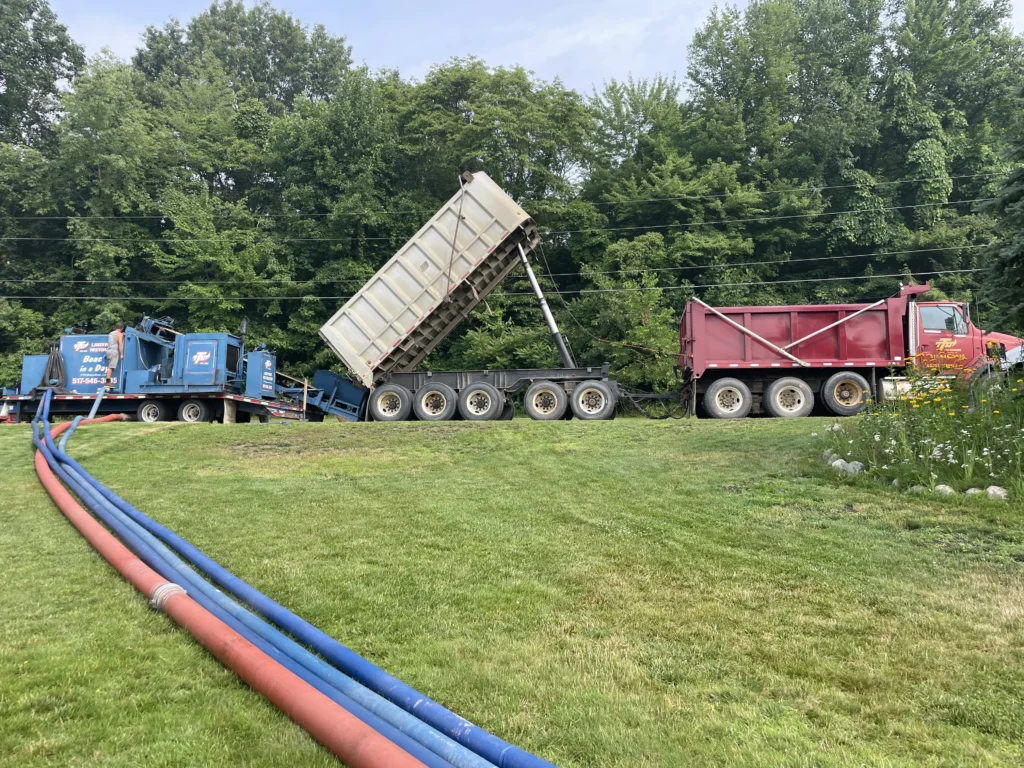 Regardless of how the lake's name was coined, this was a job we truly enjoyed working on. The lake is naturally beautiful, and our client wished for a nice, sandy lakefront beach for their property.
Our day at the beautiful Magician Lake began by setting up our Sand-Pro System™. As you can see, our trucks never crossed onto the property, as we were able to park on the nearby street and extend our many hoses down to the waterfront, keeping our client's property undisturbed throughout the process. Our unique San Pro System is a proprietary system designed to simplify the beach sanding process. In its most basic form, the system is able to pump water from the lake and mix it into a slurry of sand and water, and then deliver that mix back through the hoses and deposit it to create a stable lake bottom. The best part is, this is all completed without any heavy machinery or vehicles on your lawn! 
We steadily worked through the day, until the once rough lake bottom and shoreline behind the retaining wall transformed into a sandy sanctuary. This new area now serves as an inviting space for the residents to partake in an array of beach activities, from sunbathing and picnicking to indulging in watersports.
Working on Magician Lake was not just a job; it was an opportunity to enhance the lake's beauty while creating a functional and beautiful space for our client. As we wrapped up and admired the day's work, the glimmering waters of Magician Lake seemed to mirror our satisfaction, as if enchanted by the transformation itself.
At TT&C Beaches, we understand that a beachfront is more than just a patch of sand. It is a canvas for making memories, a gateway to aquatic adventures, and a tranquil nook that houses countless serene moments. By delivering beach sanding and muck removal services tailored to Michigan's diverse lake landscapes, we ensure your waterfront property is everything you dreamt it to be and more!
Contact us today for a free beach evaluation and quote.